You'd like to use LinkedIn for networking in English but you are a bit worried about your English skills? As the Germans say 'Kein Meister ist vom Himmel gefallen*'. There's no shame in not being perfect, but a lot of us still find it challenging to write in a foreign language. Myself included. I rarely write in German as I'm conscious that my grammar isn't quite right. Luckily, there are some really great ways to share content on LinkedIn to showcase your industry experience and insights.
Make a video
If you feel comfortable speaking English, then consider creating a short video. This blog post explains how to create a video for Linkedin. In addition to these tips, I'd add that if you are German-speaking, then remember to watch your language – no F-bombs unless you really know your audience is ok with swear words!
If you have a native English speaker in your contacts, ask them to preview the video in case you are mispronouncing anything really badly. Most of the time it really doesn't matter, and you should just go with being natural, being yourself. But sometimes a mispronounced word can make it hard for your audience to understand what you are saying. When I first moved to Germany, I couldn't pronounce the Umlauts. I did my apprenticeship at a furniture store, and when customers asked what wood the table was made of, I'd say 'Büche' instead of 'Buche'. It was such a tiny difference but people didn't understand me!
Saying that, sometimes you might want to share an off-the-cuff video. By this I mean, a video that isn't scripted and rehearsed. One that you film quickly on your phone and upload straight away. This doesn't have to be perfect – maybe you are at a trade fair and you want to share some impressions, or you want to give a sneak peek at new product developments. Any small mistakes you make will be forgiven by your audience if you are passionate and engaging.
Upload a presentation
Full disclosure – I found the above post when searching LinkedIn for an example of a presentation. I have to admit to not understanding it but it's really well done so I wanted to share with you! If you click through to the post (via the LinkedIn icon) then you can see that the post has around 100 reactions and over 50 comments. 
Another way to boost your LinkedIn networking in English is by uploading a document such as an e-book or a presentation right on LinkedIn. This is great for personal branding, as you don't have to try to persuade followers to click a link to a website. It's embedded right there on LinkedIn. Obviously, this works only when the presentation is self-explanatory. Your followers have to be able to click through independently and still be able to follow what you want to say.
The advantage of uploading a presentation is that you can use content that you already have. It's also a lot easier to create a presentation with images and bullet points than to write an article. (Well, it is for most people. I'd far rather write!) As with the video, get a native speaker to proof-read if you can. If you don't have someone you can ask, then use Word to proofread the text or try out the English spelling and grammar checker Grammarly.
Share an Infographic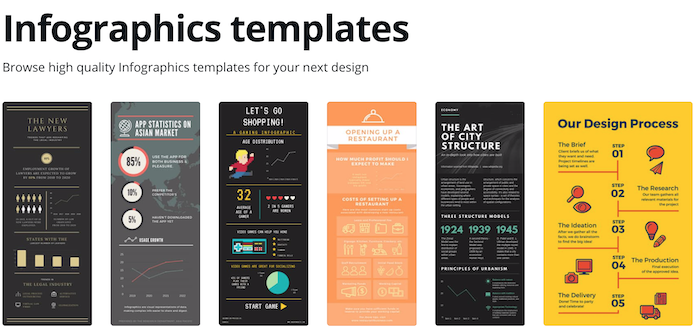 This takes a little bit of time and effort to create but is a great way of sharing information that doesn't rely on long passages of text. Take some data and create an infographic. If you've never done anything like this before, check out this blog post from Canva, an online graphic design site with a range of infographic templates.
Statistics are always popular on LinkedIn. If you can present them in an easy-to-understand way then you have a good chance of your post being shared. Don't forget to include a link to the original data and do make sure that it is from a reliable source.
One of the most popular content types on LinkedIn is a How-To. Think about the knowledge that you have of your industry. What could you share with others in order to make it easier for them?
Share Content from Others
You don't have to create a sparkling blog post yourself. Look out for interesting blog posts or news articles from your industry and share these. Don't just click SHARE. Take a moment to read the post carefully and share with a comment stating your opinion. Do you agree with the post? If so, why? Do you have anything to add? Do you have any personal experience? Don't be rude but do be honest.
Write a LinkedIn Artikel with a Ghostwriter
One of the easiest and quickest ways to create English content that helps you with LinkedIn networking in English is to work with a Ghostwriter. I work regularly with German speakers to capture their unique insights and turn them into an engaging LinkedIn article.
All I need from you is a general overview of what you'd like to say. I can work from notes or from a 30-minute interview (in German). From this, I create an article for LinkedIn for you to share. Get in touch to find out more!
*  I've spent some time thinking about the equivalent English idiom for 'kein Meister ist vom Himmel gefallen'. The idiom is often used to reassure learners that even those who are recognised experts had to begin somewhere. They didn't fall from the sky fully formed. The literal translation is 'no master has fallen from the sky', but in UK and the USA, we don't have the same apprenticeship system with 'Meisterprüfung'. So if you say that, people won't really understand what you mean. We might say 'practice makes perfect', which is similar though not exactly the same.  Other useful idioms for this situation are 'Rome wasn't built in a day' and 'If at first you don't succeed, try try again'.